Some of my Astrophotography awards and publications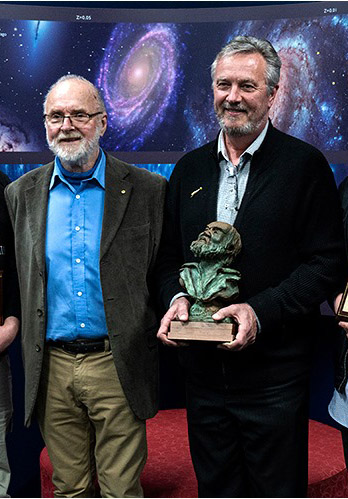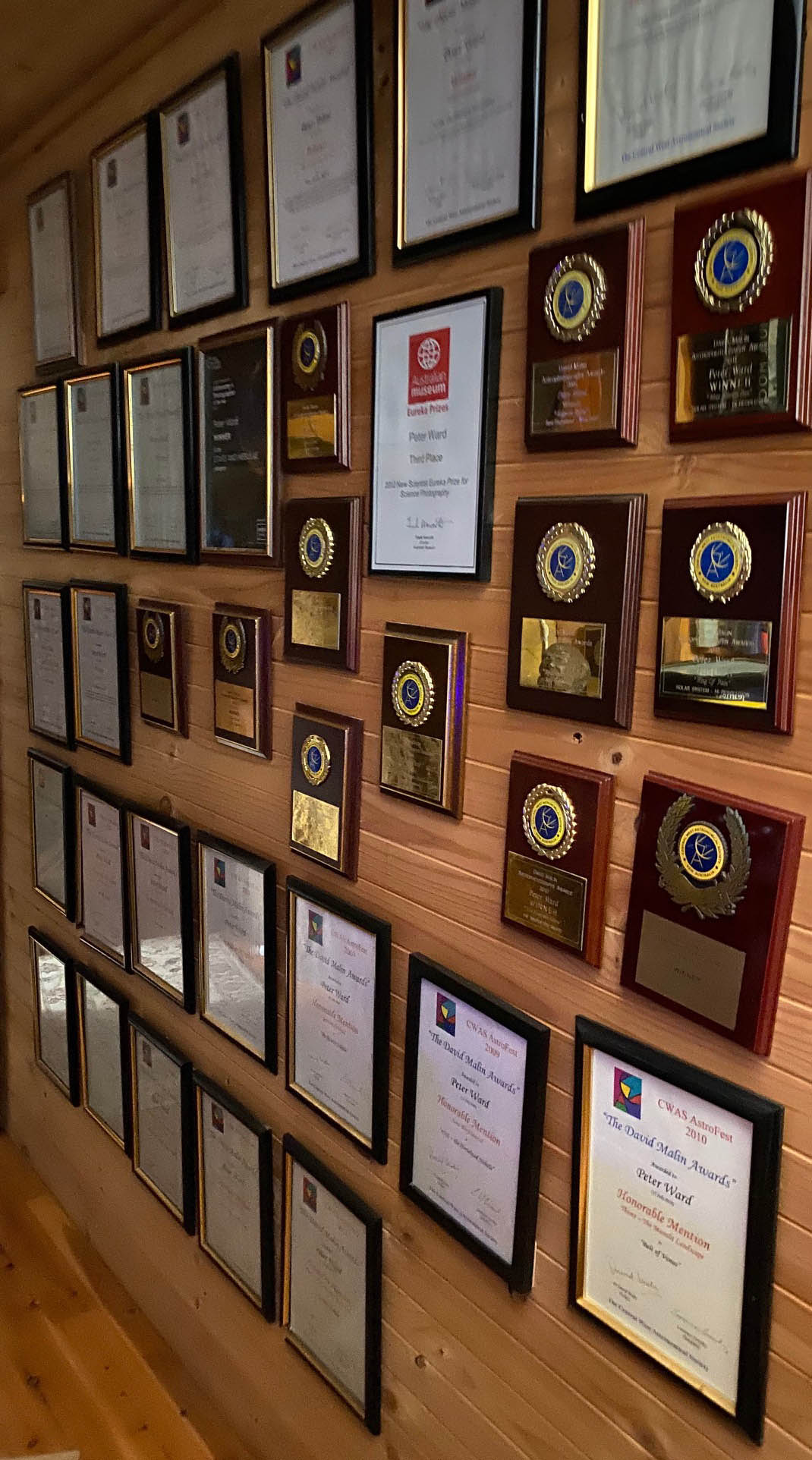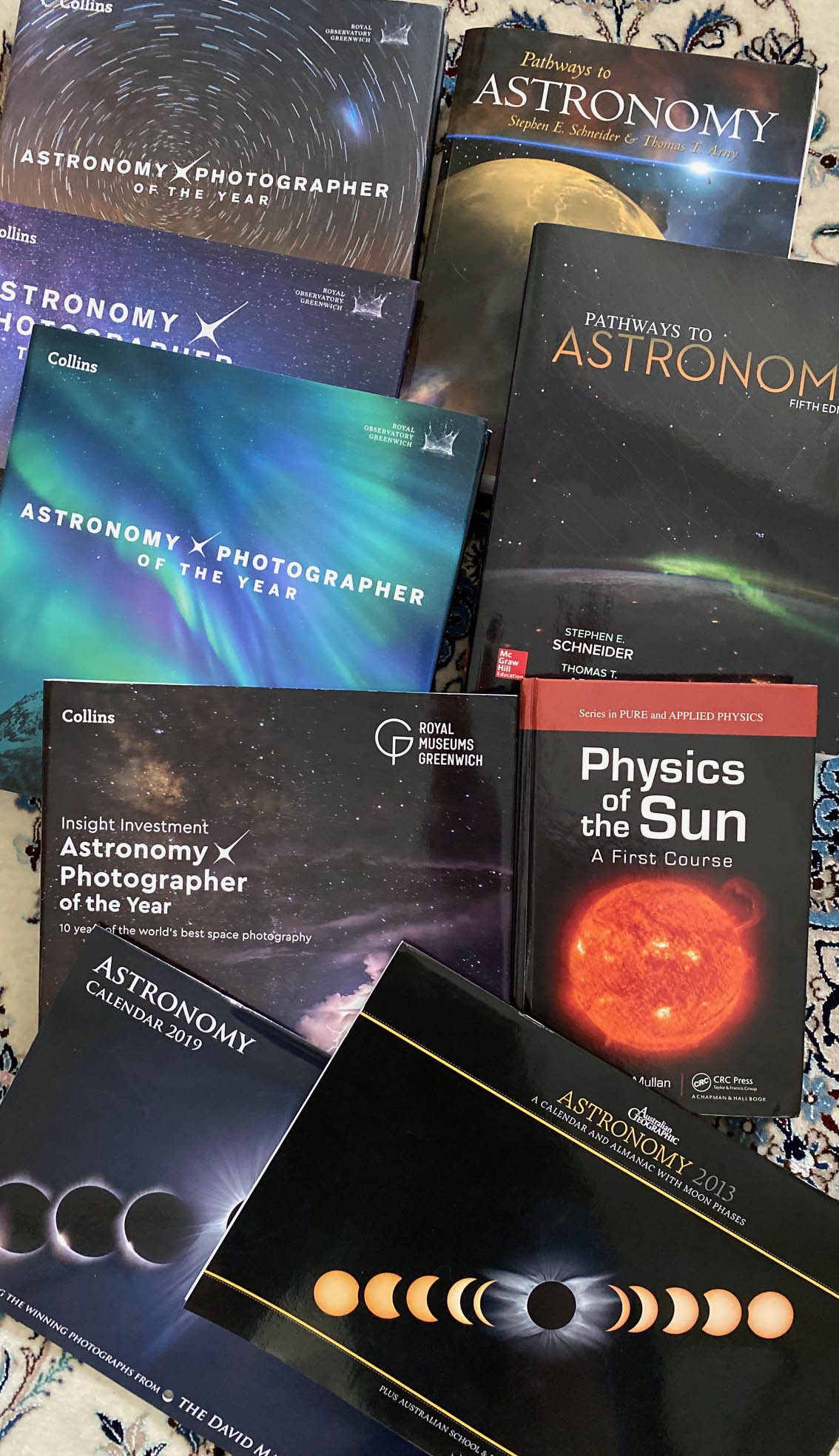 National Awards
CWAS David Malin Astrophotography Awards
Judged by Dr David Malin OAM.
Dr Malin pioneered many astrophotographic techniques at the Anglo-Australian Observatory
His colour imagery using the AAO and UK Schmidt telescopes is world renowned
CWAS/Malin awards are Australia's premiere Astrophotographic event.
The awards were generously sponsored by Canon Australia and the CSIRO for many years.
Apart from the overall prize, successful entrants are given category wins or honorable mentions
(hightly commeded entries were also given kudos, but no sponsor prizes were given to the recipients)
I have received around 20 highly commended images which due to poor record keeping on my part have not been included below.
The NewsCorp Photo editor's prize was added from 2012.
The inaugrual Year was 2004. I was a co- judge with one of Australia's finest amateur Astrophotographers Mr Steven Quirk.

As "vetting" judges we clearly could not enter the competition. Not many entries were recieved (about 30), David Malin subsequently made all judging decisions in 2004 and following years.

With the generous sponsorship of Canon Australia, the entry pool grew to over 500 entrants. The subsequent Malin Award exhibitions have been attended by a total of over 2 million visitors, making it the largest photographic exhibition of any kind in Australia.

I subsequently have acted as the judge for the Royal Astronomical Society of New Zealand Astrophotography competition in 2016.

*The CWAS comittee created a "semi-professional" category from 2005 to 2009 which probibited entrants who derived any income from astronomy/photography interests from entering other competition categories.

The David Malin Innovation Prize  is rarely and only awarded at Dr Malin's discretion,
"for a striking astronomical image that shows exceptional imagination, innovation or an unusual approach in any of the categories"

*2005 Winner Semi-professional category (Wide field image)
*2006 Winner Semi-professional category Solar System +OVERALL WINNER + Honorable mentions x3
*2007 Winner Semi-professional category (Nightscape image) + Winner Innovation Prize + Honorable mentions x2
*2008 Winner Semi-professional category (Deep sky image) + Honorable mentions x2
*2009 Honorable mentions x2
2010 Winner Innovation Prize x2 + Honorable mentions x2
2011 Winner Solar System + Honorable mentions x3
2012 Winner Solar System + 1 Honorable mention
2013 Honorable mentions x3
2014 Winner Scientific animation + Honorable mention x2
2015 Winner Solar System Winner Photo Editor Deep Sky
2016 Winner Deep Sky Honorable mention x4
2017 Winner Solar System Honorable mention x1
2018 Winner Deep Sky Honorable mention x4
2019 Winner Deep Sky + OVERALL WINNER +1x Honorable mention
2020 Winner Solar System

2021 Withdrew from the CWAS/Malins competition to take a place on the judging panel with Dr David Malin plus arguably, two of Australia's finest Astrophotographers, Phil Hart and Alex Cherney.
---
Sydney Observatory/The Powerhouse Museum
Winner Best Venus 2012 Transit image.
Australian Museum Eureka Prize 2012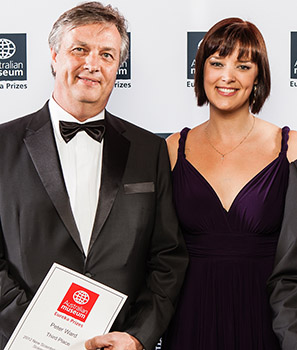 Third place. Scientific Photography
---
International Awards
Royal Greenwich Observatory Astronomy Photographer of the Year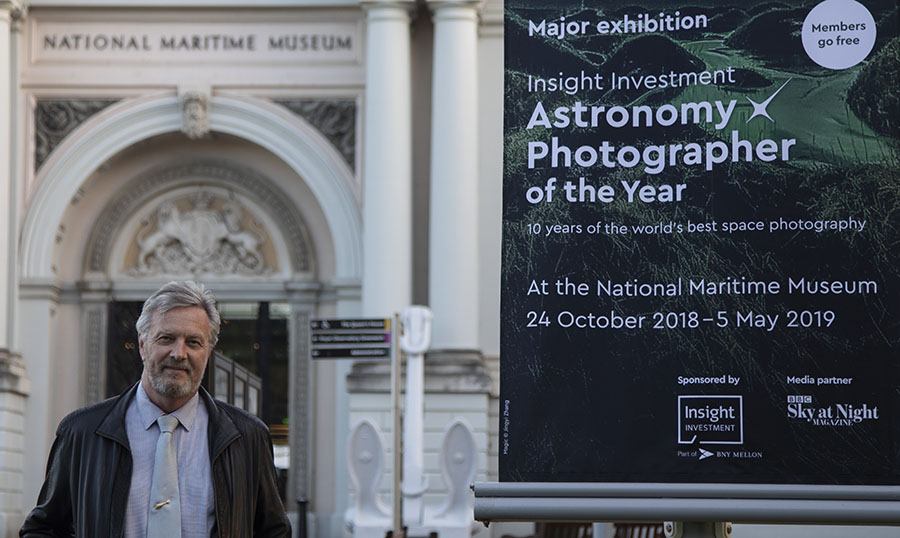 Initially the competition was a modest affair starting in 2009 via submissions to a Flikr group
and attracted about 500 entrants from 30 countries.
It has expanded significantly and with Insight Investment as a sponsor
since 2016 the overall winner now receives a prize of £10,000
making it the richest astrophotographic contest in the world.
The 2020 competition saw 5400 entrants from 90 countries
The subsequent exhibition has been moved from the
Royal Greenwich Observatory into a dedicated space at
The National Maritime Museum and features massive back-lighted transparencies,
projections and interactive media.

2011 Highly Commended Our Sun
2012 Short listed
2013 Shortlisted
2015 Sortlisted x2
2018 Runner up. "Our Moon"
2020 Winner. Stars and Nebulae
2022 Shortlisted "Galaxies"
2023 Runner up. "Our Sun"
---
Sky & Telescope Beautiful Universe Competition

In order to attract, in their own words, "the most awesome and inspiring images"
USA publishing icon, Sky & Telescope magazine
in 2007 invited contestants to submit their work for their
"Beautiful Universe" contest with prize incentives to supply images for their print publication.

Over 900 submissions were received from around the world.
While their annual publication of outstanding astrophotography goes on,
the contest unfortunately did not continue beyond 2007.

.Winner / First prize The Sun
+ Second place The Sun
+ Winner People's Choice The Sun
---
Publications
My images and the occasional interview have appeared in the publications listed below.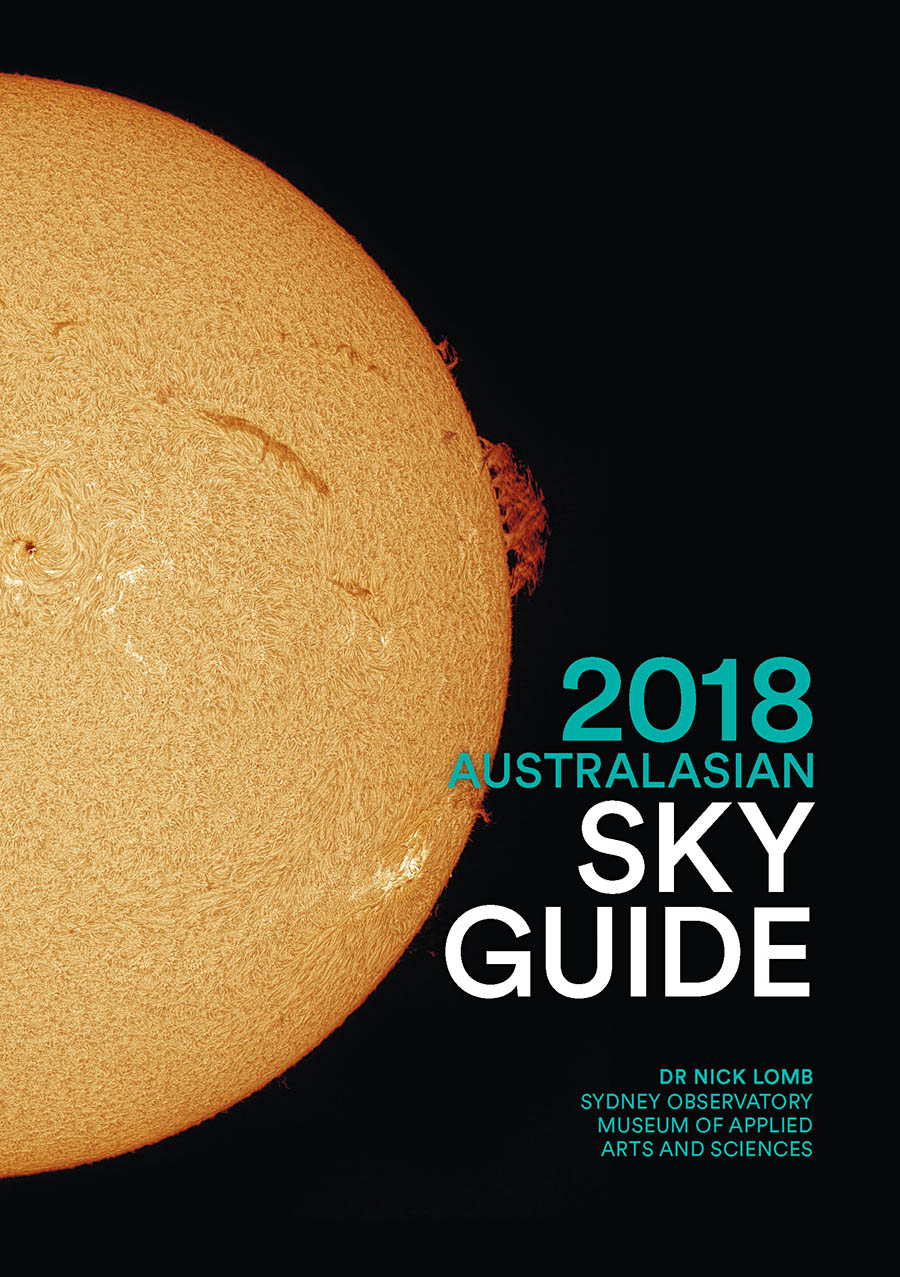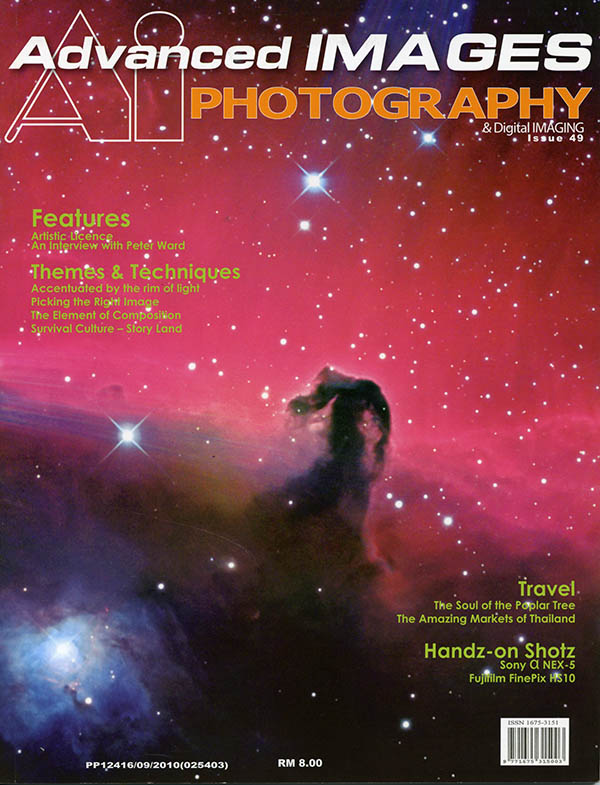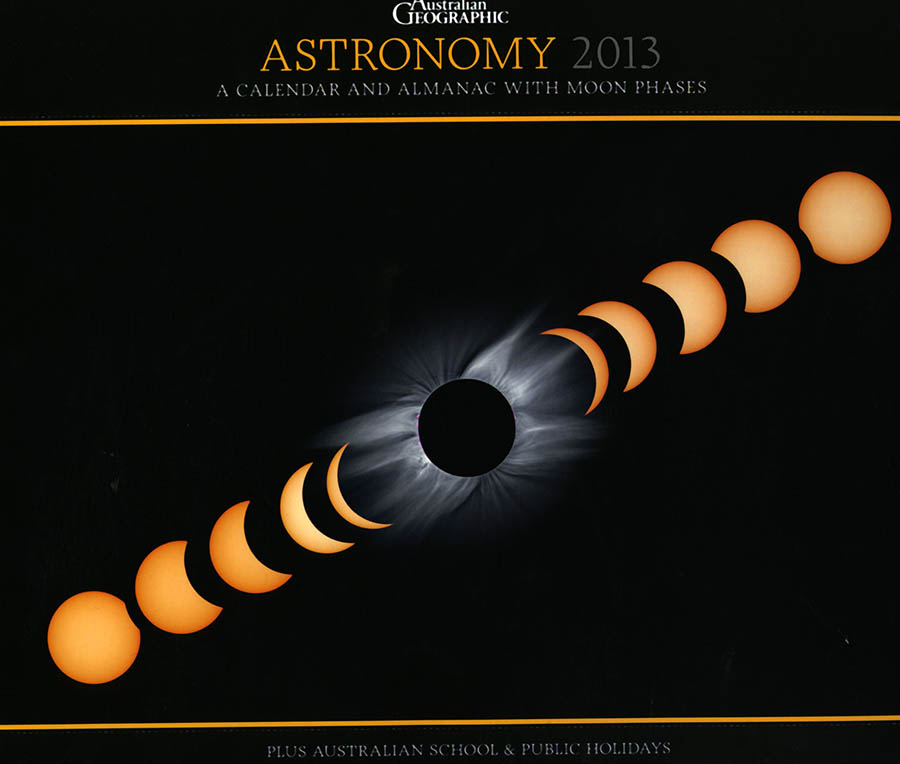 Magazines
Sky&Telescope Magazine, Astronomy Magazine, Australian Sky & Telescope Magazine,
Southern Astronomy Magazine, Sky & Space Magazine, Cosmos Magazine,
BBC The Sky at Night Magazine, S&T Beautiful Universe,
Advanced Images Photography, PhotoCreator (Japan) ,
The Bulletin, QANTAS inflight magazine.

Newspapers
The Sydney Morning Herald
The Sun-Herald
The Australian
The Melbourne Age
The Guardian
The Daily Telegraph
The Leader
The Parkes Champion Post.

Calendars
Australian Geographic "International Year of Astronomy" Calendar 2009,
Astronomy Calendar 2010
Australian Sky Calendar 2012, Astronomy Calenday 2012 (cover)
Australian Geographic Calendar 2013 (cover)
Astronomy Calendar 2017
Astronomy Calendar 2018
Astronomy Calendar 2019 (cover)
NASA APOD printable calendar 2019
Astronomy Calendar 2020
Australian Geographic Calendar 2021
Sky at Night Calendar 2021
Astronomy Calendar 2023 (cover)

Books
2018 Australian SkyGuide (Cover), The Physics of the Sun, Pathways to Astronomy (McGraw Hilll), Greenwich Astronomy Photographer of the Year (APOTY) Collins Collection 1, Greenwich APOTY Collins Collection 2, Greenwich APOTY Collins Collection 4, Greenwich APOTY Collins Collection 7, Greenwich APOTY Collins Collection 9. Pathways to Astronomy Fifth Edition (McGraw Hill). Royal Greenwich Astrotronomy Photographer of the Year Diary 2022 (Flame Tree publishing)

Web




Awarded 9 NASA APOD's to date: 2007, 2010 x2, 2013,2016,2017,2018, 2021,2023


Other Web-pages featuring my images include: CSIRO, ABC NEWS, 9 NEWS, Daily Telegraph, Sydney Observatory, Perth Observatory, Royal Museums Greenwich Powerhouse Museum, The Australian, Australian Photography, Photo Review, DigitalRev, Science Illustrated, GC Magazine, CNN News, Mashable, Smithsonian Magazine, Australian Geographic....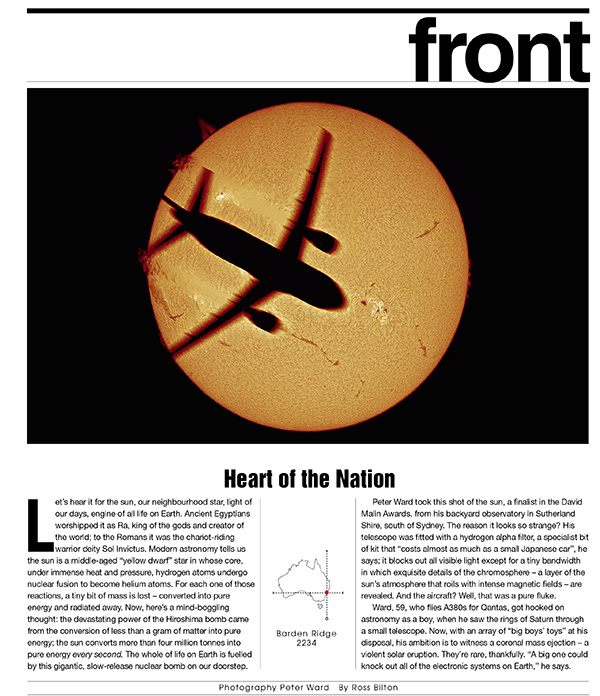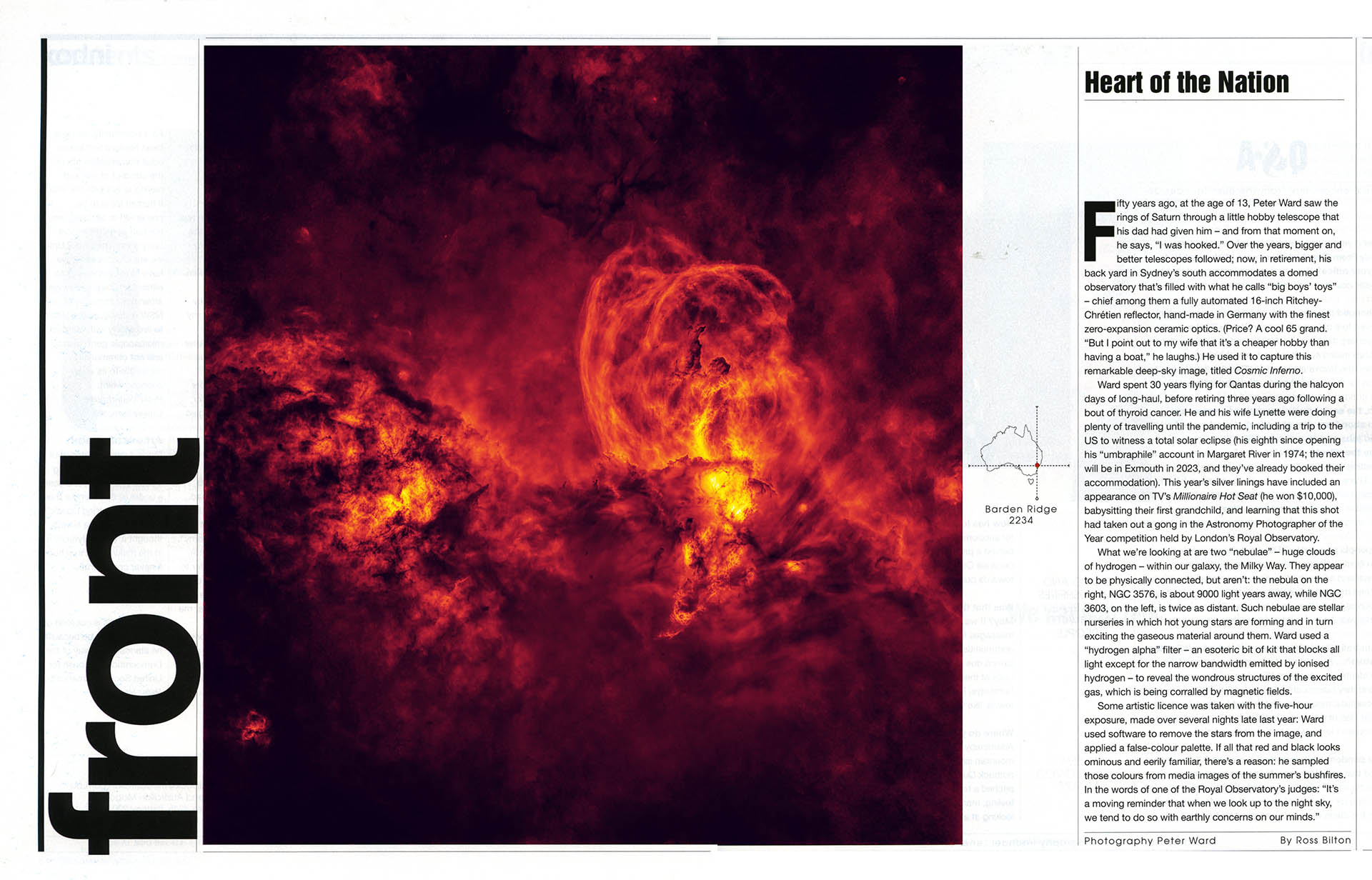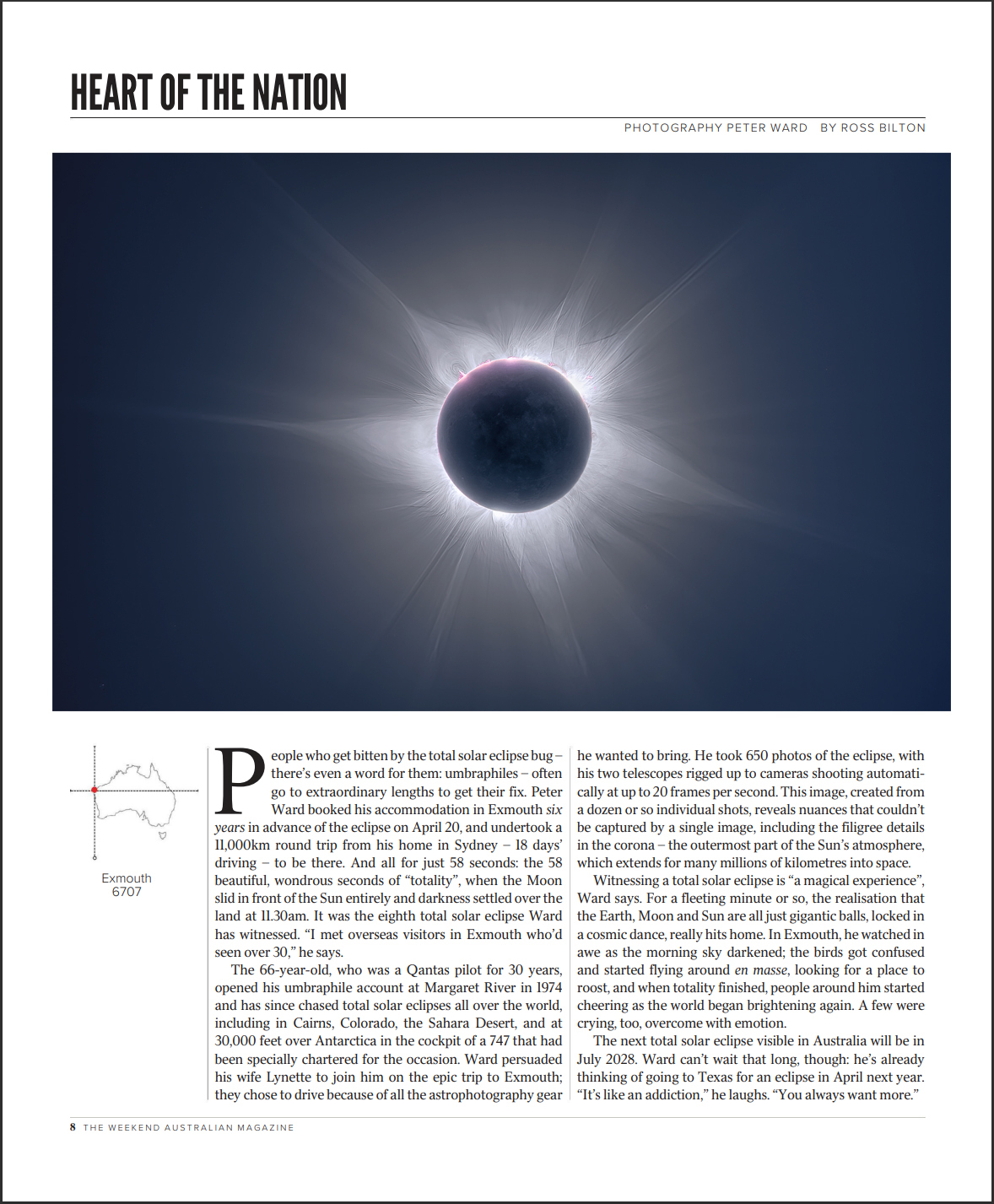 ---
Broadcast Media
ABC Television Channel 2
Channel 7 Television
Channel 9 Television (Millionaire Hotseat ! )
BBC four (UK)
CBS 4 Television (USA)
ABC Radio National (Australia)
---
Advertising
Voyagers Ayers Rock Resort ran an extensive national Australian print media campaign
which included most major tabloids and the QANTAS inflight magazine in 2014 using my "Moonrise over Uluru" series.
The cropped image below was featured heavily in the campaign plus the uncropped original gained a NASA Astronomy Picture of The Day.