Preliminary Specifications – Subject to Change without notice

A Higher Standard in Scientific CMOS cameras
The SBIG Aluma AC-4040 is the latest in high-performance scientific imaging cameras,
featuring a CMOS (complementary metal oxide semiconductor) sensor as the primary detector.

After two years of research and development,
the new SBIG Aluma AC-series use the advanced Aluma® architecture,
featuring an on-board processor, custom logic, a fast USB 3.0 readout,
and an Auxiliary port for external triggering or control of an SBIG Filter Wheel.
Like the SBIG Aluma Compact Cameras, the DL Imaging Drivers are supplied with the camera,
and are available for Microsoft Windows® 7 through 10, MacOS® 10.14, and
Canonical® Ubuntu Linux 18.04 LTS. The DL Imaging Drivers include native
ASCOM support for the Windows platform, so you can be up-and-running
right away with the bundled MaxIm LT or your favorite image acquisition software.


The Evolution of SBIG Hardware
It works with a standard SBIG Filter Wheel such as the FW7-STX, and
supports the standard 3-inch dovetail and other adapters that are used widely.
It shares the same high-performance pin-based heat sink and
liquid cooling option that has been an SBIG standard for years.
It generates less heat and consumes less power due to the
highly efficient cooling stack and advanced electronics.

Of course, like most large SBIG cameras, the new Aluma AC-series features a
mechanical shutter for easy dark frames,
and electronic shutter for precise exposure control.

Adaptive Optics with Autoguiding is a snap with the optional
SBIG AO-X and new SBIG StarChaser SC-3 off-axis guiding camera.
Simply mount the AO-X to the StarChaser SC-3 on the front of the FW7-STX filter wheel.


High Performance, Excellent Quantum Efficiency
If you have a telescope from 0.36m to over 1.0m in aperture,
the Aluma AC-4040 is an ideal choice with it's large 52mm diagonal
providing excellent sampling and field of view.


The SBIG Aluma AC-4040 features a high performance
4096x4096 CMOS image sensor with 9μm pixels, 36.8mm on a side.
While the SBIG STX-16803 CCD retains its advantages in dynamic range and low amp glow,
these new CMOS detectors have very low read noise and peak Quantum Efficiency (QE) of over 74%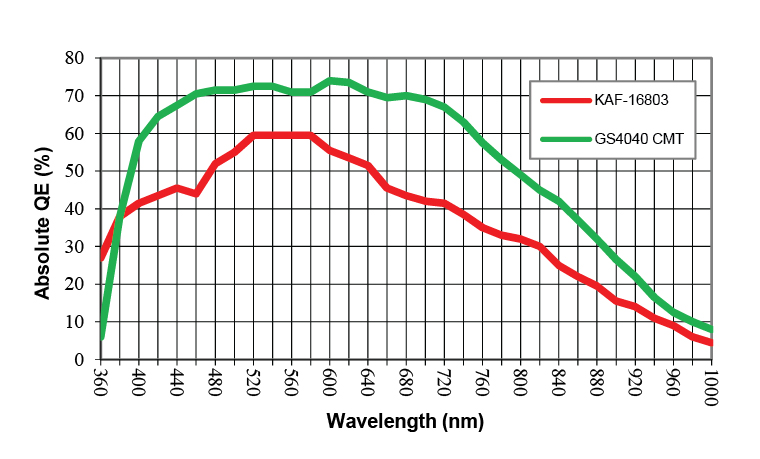 To reserve a production slot or for approximate pricing and delivery times email Advanced Telescope Supplies